The Kings of Ceilidh
"From the moment they started our guests never stopped dancing. Calling out the dances for the unsure and uninitiated when needed, and playing with high energy that transferred onto the dance floor!"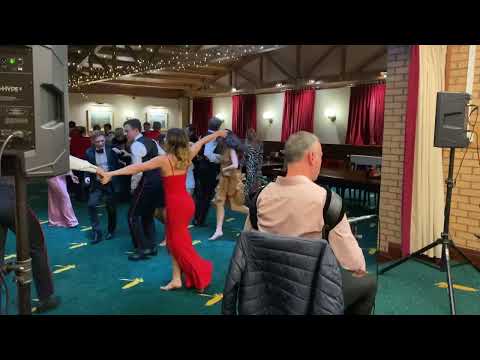 Overview
Reviews
Line-Up
Performance Times
Booking Add-ons
Provided by the Act
Gallery
Set list
Set List:
Ceilidh Dances
These are some of the dances The Kings of Ceilidh perform (every dance is called):
Gay Gordon's
Dashing White Sergeant
Canadian Barn Dance
St Bernard's Waltz
Strip the Willow
Military (Boston) Two-Step
Virginia Reel
Flying Scotsman
Old Time Waltz
Circassian Circle
Hullichans Jig
Highland Schottische
Riverside Jig
Orcadian Strip the Willow
If you are in the mood for some 'Reel Party' dances, here are some additional dances we can play the music for:
Eightsome Reel
Foursome Reel
Hamilton House
Duke of Perth
Duke & Duchess of Edinburgh
Mairi's Wedding
Inverness Country Dance (Speed the Plough)
The Reel of the 51st
Reviews (12)
We hired the Kings of Ceilidh for our community Ceilidh, the band were fantastic! Explained the dances beforehand, which was very helpful!
Everyone who attended had a brilliant night. I would highly recommend Kings of Ceilidh. Thank you guys!

We had the good fortune of choosing The Kings of Ceilidh for our wedding dance. From the moment they started our guests never stopped dancing. Calling out the dances for the unsure and uninitiated when needed, and playing with high energy that transferred onto the dance floor! Highly Recommended!!
Kings of Ceilidh were super fun and really helped a group full of amateurs through a hilarious night of ceilidh dancing. They were all in super good spirits and the music was brilliant – they also communicated clearly what was needed from us as soon as we began communications, and they were punctual and extremely polite. Thank you so much for making it such a wonderful evening!
The Kings of Ceilidh are very professional, they are great musicians and will give you a fantastic time at your event. If you like traditional music, I guarantee you will love them.
What a wonderful way to complete our perfect day, good music, professionally delivery with good humour. Would highly recommend this band and we WILL be using them again as soon as we can. Thanks to all.
The occasion was a 35 year reunion and some people hadn't been to a ceilidh since leaving Uni. Great tunes, some classic dances and some that were new to us. They were all well called, and got us all up and jigging. Really added to a great night. Thank you Kings of Ceilidh!
Kings of Ceilidh provided an excellent service for our wedding ceilidh, Great music, good range of dances, and kept the party going. Craig and the band were very professional and courteous, and were able to accommodate all requests we made of them. Overall, and great sound and great service, would recommend!"
We booked Craig and his band to play at our wedding at Banchory Lodge this year and the guys were fantastic. We had a mix of traditional live ceilidh music and a selection of current disco music when the guys took a well earned break. Couldn't fault the band in any way. Half of our crowd were English and hadn't a clue about ceilidh dancing, but Craig instructed everyone what to do which worked a treat so everyone tried to get involved. To complete our evening of celebrations we finished with Loch Lomond with Bride & Groom lifted onto folks shoulders, the atmosphere was just incredible and all thanks to Craig and his pals in the band. I would highly recommend – Martyn & Liv
An absolutely cracking ceilidh band that delivers a fast paced and top quality dance. If you are looking for a high standard as well as a group that's minimum fuss to deal with and gets on with what they do best, then look no further.
Craig and his band had everyone dancing the whole night at our wedding dance and we had so many compliments from our guests. Dances were upbeat, with innovative harmonisation and had great segues. Dances were also called well and worked for all ages, including those new to Scottish dancing. They also called a few new dances that are now favourites! Thanks Craig!
We had the pleasure of booking Craig and the band for our wedding in December 2021. From the moment we paid the deposit, we knew we were in safe hands! Communication was great and the band were so professional and flexible throughout. However, on the night they exceeded expectations! The dance floor was packed and they got everyone dancing. We received so many compliments about the music and would highly recommend that anyone considering booking the band should go for it! It will be a highlight of your wedding day.
The Kings of Ceilidh played at my 21st birthday party and it was a great night. They kept the party going and everyone thouroughly enjoyed themselves.
Line-Up
Additional Line Up Options
Performance Times
8pm – 12am (with a 30-minute break)
Booking Add-ons
Additional ceilidh musician
Provided by the Act
PA System

Able To Work With Sound Limiters
Complimentary Unmanned DJ Service (when not performing)
Gallery
Check availability and price for The Kings of Ceilidh
To find out if this act is available and what it would cost to hire them, please fill out the form.
To ensure the quote is as accurate as possible, remember to tell us the postcode or nearest town to your venue. Good Luck!